Home Phone Installation Options
Out of the box
The standard SwitchWorks home phone service requires two pieces of hardware: a modem and a router/telephone adapter (called the ATA). This option assumes that you will use only one phone jack, and use only one phone. Any phone that you already own can be used with the service, including cordless phones.
Simply connect the modem to any phone jack in your home using the cable provided, then connect the ATA to the modem. Finally, plug your phone or cordless phone base station into the ATA. See diagram below: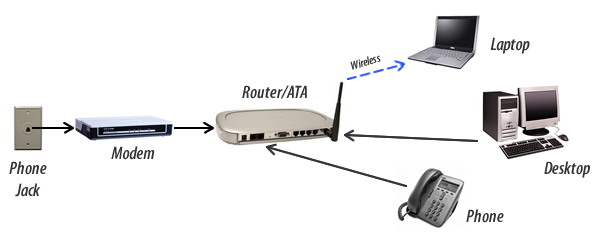 Standard Wiring
Most homes are originally connected to the telephone company's network using a standard 2-pair wiring system that runs to each jack in the home. If your home has only ever had one phone line active, you should be able to use the SwitchWorks home phone service with all the jacks.
The ATA may be damaged if it is connected to an active phone line. Ensure that the second pair is inactive before proceeding. This can be done with a telephone line tester or ammeter. To protect against future activation of the line, disconnect the second pair at the NID (network interface device) where the phone lines enter your home.
You will need a Duplex 2-line Jack (available at The Source) for each phone, and one for the ATA. Plug a Duplex 2-line Jack into each phone jack you want to use, then plug each phone and the ATA into LINE 2 on the Duplex 2-line Jack. See diagram below: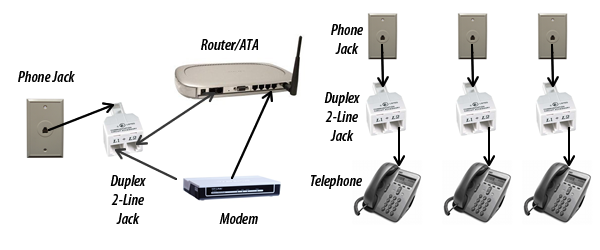 Custom Wiring
If your home does not have standard wiring, and you want to use your SwitchWorks Home Phone with all the jacks in your house, you will need to do some work on the wiring. If you are handy with wiring you can do it yourself — there are many free sources of information online, including videos on YouTube.
If you are in the Toronto area, one of our SwitchWorks technicians can come to your home and do the wiring for you. Minimum service charge is $90, depending on your location and the specific work required.
If you are outside the Toronto area, we recommend hiring a professional to do the installation for you.
Calling Features
Standard Calling Features
Call Display

– Displays the name and number of the calling party on your telephone's display screen.

Caller I.D.

– Displays your name and number on the telephone display of the party you are calling.

Call Forwarding

– Redirects your incoming calls to any phone number of your choosing. Can be configured and changed any time online.

Call Hold

– Place current call on hold (instructions required).

Conference Calling (a.k.a. 3-way Calling)

– Allows you to have phone conversations with people at two different phone numbers at the same time.

Find Me/Follow Me (a.k.a. Call Hunt)

– Allows you to create a list of phone numbers that will ring simultaneously if you do not answer your home phone.

Speed Dial

– One touch dialing of commonly used numbers.

Blacklisting

– Set up a list of phone numbers which your phone will ignore calls from.

Dictation

– Use your phone like a voice recorder!

Call Log/Call History

– View all your dialed, received, and missed calls online, any time.
Optional Calling Features
Voice Mail

– Messaging on your phone (able to be accessed from your phone, or online from your account manager)

Voice Mail to Email Forwarding

– Have your voice mails send to your email, so you can check them wherever you are!

Call Waiting

– Alerts you, when you are on a call, that there is another incoming call, and allows you to put the first caller on hold and answer the second call; then switch between them keeping both calls live.

Visual Call Waiting

– If Call Waiting is enabled, allows you to see the second incoming caller's name and number on your telephone's display screen.
Viewing Your Call History
New SwitchWorks Home Phone customers are sent an information page along with their telephone adapter. This page lists all your account information, including your Home Phone login information. If you have misplaced this information, you can always contact technical support for help.
To view your call log, go to accounts.switchworks.com and log in with your ten digit phone number and PIN. You can log into this page at any time, from any online computer, and
check your voicemail
view your call activity (all sent, received, and missed calls)
change your calling features preferences, (for example, turn do-not-disturb on and off; and set up call forwarding numbers)
Traveling With Your Phone
One of the advantages of being a SwitchWorks Home Phone customer is the ability to take your phone (or, rather, your phone service) with you anywhere you go.
Your router/ATA is programmed with your telephone number, and it will work whenever it is connected to the Internet — whether you're at home, or on vacation, or visiting relatives on the other side of the country, or the other side of the world!
Next time you're traveling, simply unplug your router/ATA, and pack it, along with a network cable, in your suitcase. When you arrive at your destination, plug it into the local Internet access point, then connect any phone to your router/ATA, and you'll be able to use that phone with the SwitchWorks network just as if you were sitting in your own home. That means if friends call you, you'll receive the calls and there won't be any long distance charges for either of you. Remember when placing a call that your phone number defines what is a local call, not your physical location.
For example, if you have a Toronto number with a 416 area code and you travel to France with your router/ATA, your friends in Toronto can dial your number just as they always do, and reach you in France. Neither you nor your friends will be charged long distance fees. It works the other way around, too: you can call your friends in Toronto while you're in France, and not be charged long distance. However, if you use your SwitchWorks Home Phone service while in France to call a phone number in France, you will be charged just as if you made the call from Toronto.
911 Information and Limitations
VoIP phone emergency 9-1-1 features differ from traditional 9-1-1 emergency services. Please see our 911 Information and Limitations page and Terms and Conditions for more details.