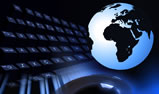 High Speed Internet – LAN Extension
For larger businesses with greater Internet needs, SwitchWorks LAN Extension service provides a scalable, fibre-based broadband connection that delivers speeds of up to 100 Mbps. SwitchWorks LAN Extension service is designed for businesses that require high-performance IP circuits for the fast, reliable transfer of mission critical data.
SwitchWorks LAN Extension solutions are fully customizable to meet the needs of your business needs and offer the following benefits:
Redundant, multi-homed network architecture
Multi-homed Internet backbone with DS-3, OC-3, and Gigabit Ethernet connections
Efficient infrastructure utilizing Border Gateway Protocol (BGP) for the most efficient IP traffic routing
Static I/P addresses as needed, subject to ARIN approval
Live technical support, MTTR on site within three hours
Call SwitchWorks at 416-531-8750 to find out more about LAN Extension services.