SwitchWorks Residential High Speed Internet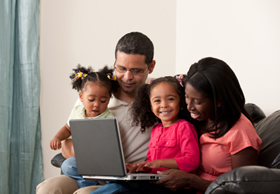 SwitchWorks offers several levels of high speed ADSL Internet to get your home or home office connected. Choose the package that best suits your needs — or SAVE with BUNDLES!
SwitchWorks High Speed Unlimited
Starting from $39.95*
For the more serious Internet user, SwitchWorks High Speed Unlimited delivers download speeds of up to 6Mbps and lets you upload, download, watch video, and play games as much as you want — without having to worry about monthly transfer limits.
Call to order today: 416-531-8750
Dry DSL and the Dry Loop
If you don't have, and don't want, a Bell Canada landline, you can still take advantage of SwitchWorks High Speed Internet.
What is a dry loop?
A dry loop, also called a local loop or a dry pair, is a telephone landline without an active telephone service—in other words there is no dial tone (that's why it's called "dry"), and no telephone number assigned to the line. The sole purpose of the line is to provide high speed Internet (DSL) to the address.
Do I need a dry loop?
If you have telephone service from Bell Canada at your home or office you do NOT need a dry loop in order to get DSL, because the high speed Internet service will be delivered via the phone line. (Don't worry, this does not in any way interfere with your ability to use your telephone.) If you do NOT have a Bell Canada landline, you DO need a dry loop.
How much does a dry loop cost?
There is a $50 one time setup fee to set up the dry loop at your address, plus a monthly rate which is charged in addition to your DSL service.  Additional fees may apply if a technician visit is required. The monthly rate is determined by your "rate band," or distance from the telephone company's switching centre (called the Central Office). For most customers, the rate is $9.10/month.
How can I save on a dry loop?
Save on dry loop charges by upgrading to a
SwitchWorks Internet + Home Phone bundle