High Speed Internet + Home Phone BUNDLES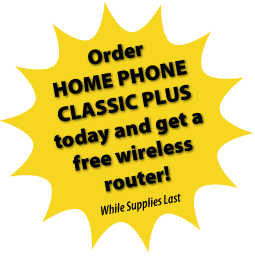 Home Phone Classic Basic
High speed Internet 6Mbps with UNLIMITED downloading!
Home phone service with FREE local calling in 3 area codes of your choice!
Home Phone Classic Plus
High speed Internet 6Mbps with UNLIMITED downloading!
Home phone service with UNLIMITED calling in Canada and the US
Compare SwitchWorks Bundles to Bell Bundles
BELL BUNDLE

(Home Phone Basic + Internet Essential Plus)

SWITCHWORKS BUNDLE

(Home Phone Classic Basic)

Free local calling
Only in Bell-defined local calling area
You define your own local calling zone by choosing any THREE area codes in your province
Calling features included
Call Display
Call Display, Caller I.D., Call Forwarding, Call Hold, Conference Calling, Find Me/Follow Me, Speed Dial, Blacklisting, Dictation.
Additional price for Voice Mail and Call Waiting
Voice Mail: $8.95/monthCall Waiting: $6.95/monthTogether: $15.90/month
Together: $5.00/month
Call history
n/a
Detailed call history available online any time — view all your dialed, missed, and received calls.
Touchtone fee
$2.80/month
NOT APPLICABLE
911 fee
50¢/month
INCLUDED
Internet
2 Mbps download speed2 GB/month download limit
6Mbps download speedUNLIMITED downloading
Activation fee
always $29.95
waived with one year contract
Modem
rent for $3.95/month
purchase
Advertised Bundle Price
$51.90
$59.95
TRUE Bundle Price
$59.15
$59.95
Information accurate as of January 2010, as published on Bell.ca
Call 416-531-8750 to order your SwitchWorks Bundle today!
VoIP phone emergency 9-1-1 features differ from traditional 9-1-1 emergency services. Please see our 911 Information and Limitations page and Terms and Conditions for more details.
Additional Services