Getting started with your small business?
Let SwitchWorks take care of all your Internet needs. We'll even provide local and long distance telephone service to your business location—all for one low monthly fee, guaranteed not to change for your first year.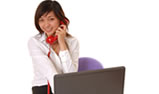 Business in a Box Package
$169.95/month*
includes:
High speed Internet service for your business location
Two telephone lines
Local plus 2,000 minutes of long distance within Canada and the continental United States, for each telephone line
Domain name (yourbusiness.com or yourbusiness.ca)
Domain name protection: we automatically renew your domain every year so you never lose ownership of your website
Up to ten email addresses (you(at)yourbusiness.com)
Email virus and spam protection
Website hosting
Website statistics
Telephone switch/router with firewall protection
* based on a one year contract
VoIP phone emergency 9-1-1 features differ from traditional 9-1-1 emergency services. Please see our 911 Information and Limitations page and Terms and Conditions for more details.