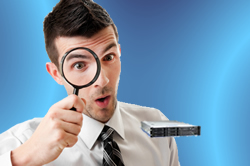 The World's Smallest Colocation Rack Space.
$69.95/month
The most power and facilities per square inch offered anywhere on the planet.
Sure, at only 1/8th of a rack, it's a small space, but it's a powerful choice for any geek who needs to find a home for his gaming or media gizmo, server, or anything that needs the fastest bandwidth possible.
So what can you do with only 1/8th of a rack? If you are a techno wizard:
run a phone service serving up phone connections for your friends, family or business;
gold farm – racking up valuable points to sell to those lesser skilled gamers;
run a virtual PC to surf at 100Mbps;
run an XBOX and play games at the fastest speeds available;
operate your Slingbox;
purchase and run one of our pico servers;
the sky's the limit.
What you get is:
1/8th of a rack shelf space totaling up to 85 sq inches of real estate in our collocation facility;
a UPS power protected hook up
1 static IP address
up to 2Mbps sustained data rate (bandwidth up to 100Mbps available for additional charge)
a coax connection for TV signals.
Get connected. You know you want to!
Call SwitchWorks at 416-531-8750 to find out more about Colocation services.