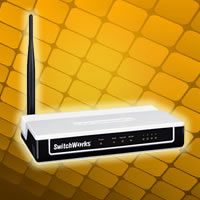 Save money. Reduce downtime and outages.
All DSL technology is currently being upgraded to newer, faster services. This is good news. However, much of the old technology will no longer be compatible.
Avoid outages due to failing or incompatible equipment. Upgrade your modem today with our new "all in one" modem package.
Our new integrated modem with wireless N router, firewall and 4 port LAN switch.
Why upgrade now?
1) Reduce your risk to identity theft, hacker attacks, downtime and outages
Many people connect their Internet service directly to their computer. Ouch! Did you know this allows hackers to grab your identity more easily? Without the protection of a firewall, you may be at risk of these crimes.
2) Eliminate ongoing rental fees
Our unit includes 4 boxes in one. If you were to go and purchase a modem, firewall, wireless router, and a switch, you could easily pay over $200. We now put all this in one simple box.
3) Reduced complexity of your network
With all the boxes required to protect you and build your network, you will need 4 LAN cables, 4 power cords and power supplies, a power bar to connect everything with. This will turn into one big mess. Not to mention every time you jiggle something, your internet will probably stop working. Our new modem eliminates all those problems.
4) Compatible with all DSL based service providers. Guaranteed!
Whether you are with us, or with another provider you can receive all the benefits of owning your own modem. Save the monthly fees. Switch to SwitchWorks Internet and receive a lifetime warranty.
We extend the standard manufacturers 1 year warranty to a lifetime replacement warranty while you are our DSL customer. We will replace your equipment, when you return your failed unit, at no charge to you. Stay protected for life and worry free!
Price: $99.95
Shipping and taxes not included.
To upgrade your current modem, please fill out the form below, and a representative will contact you to confirm details of your order.
Modem Upgrade Order Form